Mini Mal Hand Shaping Template - Round Tail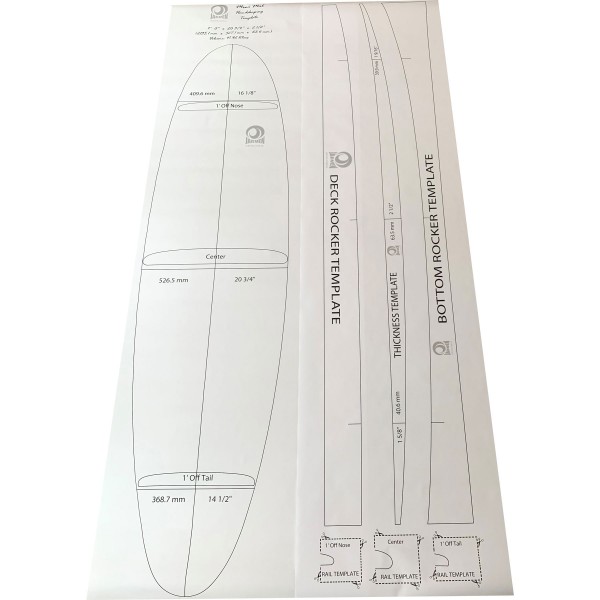 Templates are printed in life-size on a paper roll to the exact measurements of the surfboard and sent to you ready to be used.
Templates include:
Outline or Plain shape - The surfboard's outline is also referred to as the "planeshape" and is determined by the dimensions of the board's length, nose width (12 inches from Nose), middle width and tail width (12 inches from Tail). This also includes the tail template.

The paper outline is placed on the blank to mark out the blank outline prior to cutting and again to fine tune/sand the blank accurately.
Rocker (Nose and Tail) - This is the amount of curve a surfboard has from nose to the tail. It is a very important aspect of a surfboard and affects the turning capabilities and the ability of the board to generate and maintain speed.

The paper rocker templates are used to create stiff wooden templates for placing on the Bottom and Deck of the blank to accurately shape the boards' rocker.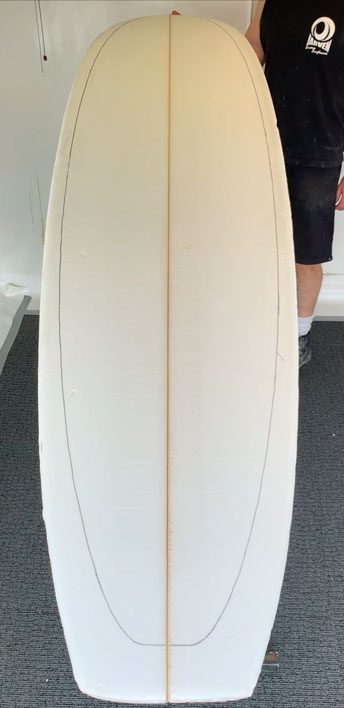 Thickness - The thickness of the tail, midsection and nose of the board effect the boards overall buoyancy.

The templates provide reference points for measuring the blanks thickness to allow control of the volume dispersion and buoyancy of the finished surfboard.
Rail Profiles - The shape of the rail profiles effect the volume, buoyancy and how the board interacts with the moving water around them.

The paper templates are positioned 12 inches from the nose and tail and the middle of the board. They are used to make stiffer cardboard templates which can be held against the blank to check the shape of the rails.
Bottom Contours - The shape and contours of the bottom of a surfboard effects the way the water flows from nose to tail along the underside of the board and this in turn effects the boards speed, lift, stability and maneuverability.

The Template provides guides to reference against and check the bottom contours of the blank.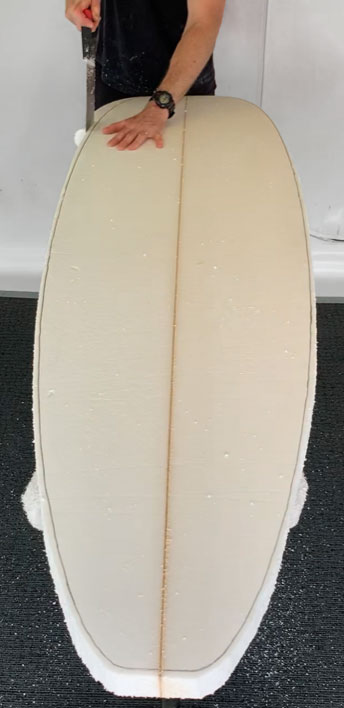 ---